Ilango Ram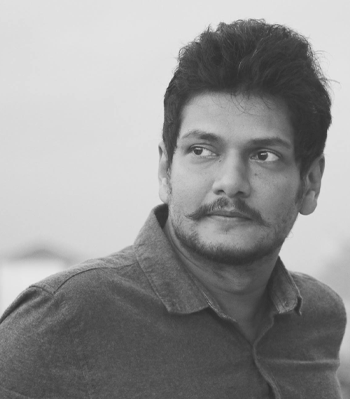 Sri Lankan by birth, educated in India, Ilango graduated from National Institute of
Technology, India as a Bachelor of Engineering in Electronics & Communication and earned
his credentials as a pilot at the Asian Aviation. An engineer by profession who has taken the
road less traveled in pursuit of his dream of becoming a filmmaker, Ilango studied
cinematography at the Rockport College – USA.
He was selected at Asian Film Academy, Korea where he showcased his talent and passion
towards filmmaking. He was then selected to participate at Berlinale Talent Campus,
Germany was yet another milestone in his journey. His learning path in USA, Korea & Berlin
has given him a complete outlook in the industry and has helped him to understand
filmmaking in depth. He then continued his learning after returning to Sri Lanka, freelancing
as a camera assistant with several Sri Lankan reputed cinematographers.
Ilango also taught filmmaking as a visiting lecturer in the University of Kelaniya, Sri Lanka
and as the Course Director at SLTTI (Sri Lanka Television Training Institute) Tamil
department.
Ilango has been in the jury panel at the Colombo International Film Festival 2015 and at
Agenda 14 Short Film Festival.
In the year 2009, Ilango shifted gears to the world of advertising where he directed more
than 450 Sri Lankan & International TV commercials. In his portfolio, he has directed TV
commercials for high profile corporate brands.
Similarly, he has directed social awareness commercials and PSA videos for Unicef, Child
Abuse awareness, Autism awareness, heart hospital project & cancer awareness campaigns.
His commercials have won Reggie Candappa Award, Sumathi awards, Effie Awards and
Government state award.
His first short film, Mouna Vizhiththuligal – Silent Tears (2014) has traveled to 28
International Film Festivals and has won 19 International Awards and was screened at
Locarno Open Doors 2017.
He was selected and participated at the Rotterdam Lab 2018, in association with
International Film Festival of Rotterdam, Netherland. His first feature project, Scent of a
dead body was selected at the Film Bazaar Co-Production Market 2017, in association with
International Film Festival of India & Clinik Kathmandu – Doc Skool , Kathmandu 2017.
His first feature film, Nelum Kuluna (Tentigo), which is currently on post production was
selected to participate at Film Bazaar Co-Production Market. It was also pitched at Asian
Content and Film Market – Korea. He is working on the remake of the same in India with a
prominent South Indian film production company.
The second short film is 'Dodana Keli' in Sinhalese language. The film was selected as one
among 10 scripts that was selected to be funded for production by Petra Films.